Handcrafted Organic Skin Care for Outdoor Adventurers
Do you love to explore the outdoors? Love taking risks and defining your own version of beautiful? Proudly a little wild and rebellious? Us, too. Welcome aboard!
Inspired by a love of sailing and wooden boatbuilding, Em & El Organics is skin care made for people who seek products that can keep up with their active lifestyle.
Em & El Organics Sets Sail with the All-Women Racing Crew of Maiden
---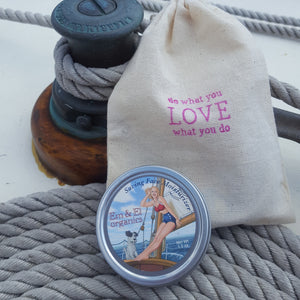 Saving Face Moisturizer ★★★★★
I love this moisturizer, and have been using it for about 5 years now. The smell is what initially drew me to it, and I love the fact that it's mostly all organic. It's good year round, when you need something a bit more heavier duty, or even when you want something lighter.
Please never stop making this!
-Erika W.
SHOP NOW
Ultimate Body Oil ★★★★★
I am on my second bottle of the Ultimate Body Oil and am SO happy with how my skin looks and feels! I have very sensitive skin. I love to swim, but the chlorine is so drying and irritating to my skin. I use the Ultimate Body Oil every day and WOW what a difference! Thank you so much!
-Amy
SHOP NOW
Boatswain Hand Cream ★★★★★
This is the only product that keeps my hands from drying out in the winter. It's incredibly effective and the scent is terrific. I can recommend this product without reservation.
-Eric
SHOP NOW
A Message from Our Founder on COVID19